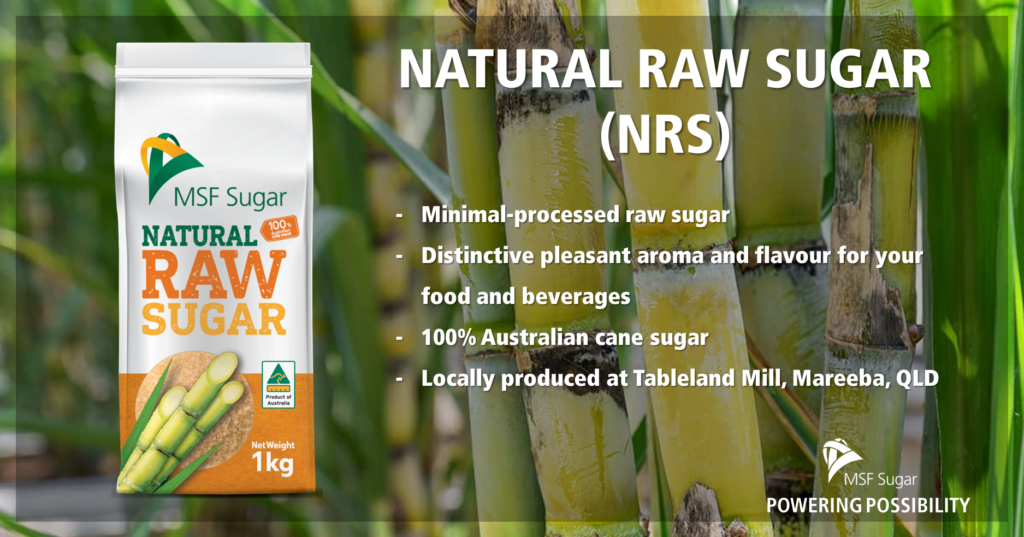 What is Natural Raw Sugar (NRS)?
Natural Raw Sugar (NRS) is a minimally processed raw sugar derived from locally grown sugarcane (Saccharum officinarum). It is created utilising a process which reduces the extent of refining prior to packaging.
NRS has a natural golden-brown colour from a little amount of molasses that remains during the crystallisation process, which also gives NRS a distinctive pleasant aroma and flavour for your food and beverages.
NRS Production
We produce NRS at our Tableland Mill in Mareeba, QLD from best quality sugarcane grown locally throughout the Tablelands region. The crushing (juice extraction) takes place within hours after harvesting to maximise the retention of nutrients.
We are proud that our production is environmentally friendly. The electricity used during the production is renewable energy, obtained from our in-house Green Energy Power Plant (GEPP) which uses bagasse (which is the pulpy, fibrous material that remains after crushing sugarcane) as a feedstock.
Altogether, you can be confident that Natural Raw Sugar is the best quality and is produced as part of a sustainable process that harnesses green power, which is safe for the environment.
Available Sizes
1 kg (1 carton = 1 kg x 12 bags)
25 kg
Where to buy
You can buy NRS from the following stores (more to come)
For Enquiry, please contact
Pakornwit Sarnpitak (Tern) 07 4043 3376, Email
Renee Smith 0437 568 416, Email
Recipes
For recipes from Natural Raw Sugar (NRS), please click here